7th Annual Christmas Tree Festival
Join in the city-wide holiday fun!
We would like to invite you to participate in our  7th Annual Christmas Tree Festival!
You can find a complete listing and map of all this year's tree, as well as our scavenger hunt form, here! Complete our scavenger hunt for your chance to win one of our many prices!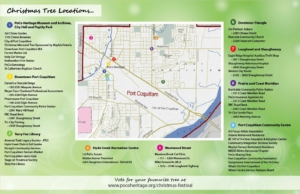 You can also win a prize by participating in our Selfie Contest! Take a picture of yourself with your favourite tree and post it to Facebook, Twitter, and/or Intagram with the hashtag #PoCoTreeFest. Feel free to tag us @pocoheritage!
Don't forget to tell us which is your favourite tree by casting your vote below!
*Note: When you click the "Vote" button, you will be asked to confirm a subscription via your listed email address. You are NOT being subscribed to anything other than the voting list, and your information will not be shared with anyone.